Starting as low as
Website Optimized for SEO

Basic Google Maps Marketing SEO Package (3 keywords)

Hosting & Security

Domain Management

Web Maintenance

Live Dashboard Reporting

Email Support
Starting as low as
Website Optimized for SEO

Standard Google Maps Marketing SEO Package (5 keywords)

Hosting & Security

Domain Management

Web Maintenance

Live Dashboard Reporting

Email Support

Phone Support

Review Software

Call Tracking

**ADA Compliance Website Package Feature (See Details Below)
Starting as low as
Website Optimized for SEO

Elite Google Maps Marketing SEO Package (7 keywords)

Hosting & Security

Domain Management

Web Maintenance

Live Dashboard Reporting

Email Support

Phone Support

Review Software

Call Tracking

**ADA Compliance Website Package Feature (See Details Below)

Dedicated Account Manager
Starting as low as
WordPress Website Optimized for SEO

Domination Google Maps Marketing SEO Package (10 keywords)

Hosting & Security

Domain Management

Web Maintenance

Live Dashboard Reporting

Email Support

Phone Support

Review Software

Call Tracking

**ADA Compliance Website Package Feature (Included)

Social Media Dashboard

Senior Account Manager

Local Services Management
**ADA Compliance Website Package Feature - This package feature is only available as an add on feature for Packages #2 & #3. Included in package #4. The addition of this feature shall incur a flat cost of $99 / month in addition to the package cost displayed above.**
Manage Your Online Reputation
EHLEN ANALYTICS GIVES YOU CONTROL OF YOUR ONLINE REVIEWS AND GROWS YOUR LOCAL REPUTATION
Imagine being able to add new Google reviews to your business each month with the help of our review services. We've given you the business owner the best possible chance of getting positive 5 star reviews in a timely manner. From solutions from review links, review cards and more we promise this can be the next big step in how your company is viewed online.
There is nothing more frustrating than getting a 1 star review when you didn't deserve it. Stuff happens, but you shouldn't have to let that be the only experience that a new or potential customer sees. We will assist you in getting 1 star reviews removed that are untrue. Your reputation is all you have and you only get one, so it's important to keep a steady inbound flow of positive and 5 star reviews coming in. Let us show you how!
Most new customers look at your online reviews before they ever consider calling you…
Ehlen Analytics Is Here For You
Your Online Reputation Tells A Customer Who You Are Before You Even Answer The Call
You new customers only have one way to learn who you are and what your business is all about, and most importantly if they can trust you with their money and their property. We believe you should have every advantage you can get before the first call so you can bring in customers who trust you and feel like they've made the right decision to call you. Inviting your past customers is a great way to get tons of reviews, if done right. We can show you how to put this on auto-pilot.
Collecting reviews is hard. We fix that. Not getting bad reviews should be easy but stuff still happens. We give you control over this with our software. Here are some basic facts about your online reviews.
A rating of 4.3 or lower is below average in the eyes of Google and its users. 

It takes 6 reviews to recover from 1 bad review.

Reviews are a HUGE contributing factor to your positive local SEO rankings.

Reviews are priceless because each one can bring in multiple new customers.
Let your Google reviews build trust before the first phone call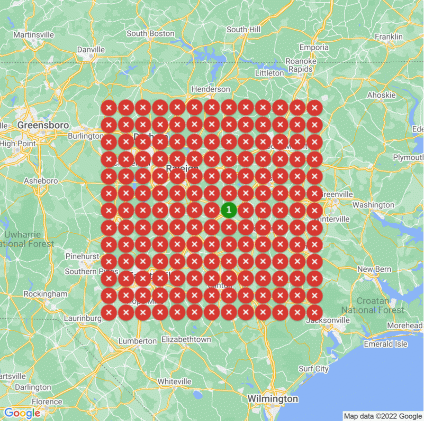 Start Ranking Over Your Competitors Today!
Guaranteed Increase In Your Google Business Profile Rankings
Visibility = Traffic = Phone Calls = Revenue
The
Americans with Disabilities Act (ADA)

is the United States' most important law regarding accessibility and civil rights for people with disabilities.
ADA Highlight #1
Employers have to make accommodations for employees with disabilities to be able to do their jobs, including disability-friendly entrances, disability-friendly bathrooms, and the right kind of chairs, desks, and office equipment.
ADA Highlight #2
Businesses of all types have to make it possible for customers with disabilities to access their services, requiring them to make modifications to their premises like wheelchair ramps, accessible bathrooms, American Sign Language (ASL) interpretations, and accommodation for service animals.
Approximately 85% of ADA lawsuits in federal and state courts during 2018 were filed against small and medium retail businesses.
The average ADA website lawsuit settlement still comes to $35,000.
1 in 4 adults have a disability that may prevent them from using your website properly. That is about 25% of online users!