Starting as low as
Website Optimized for SEO

Basic Google Maps Marketing SEO Package (3 keywords)

Hosting & Security

Domain Management

Web Maintenance

Live Dashboard Reporting

Email Support
Starting as low as
Website Optimized for SEO

Standard Google Maps Marketing SEO Package (5 keywords)

Hosting & Security

Domain Management

Web Maintenance

Live Dashboard Reporting

Email Support

Phone Support

Review Software

Call Tracking

**ADA Compliance Website Package Feature (See Details Below)
Starting as low as
Website Optimized for SEO

Elite Google Maps Marketing SEO Package (7 keywords)

Hosting & Security

Domain Management

Web Maintenance

Live Dashboard Reporting

Email Support

Phone Support

Review Software

Call Tracking

**ADA Compliance Website Package Feature (See Details Below)

Dedicated Account Manager
Starting as low as
WordPress Website Optimized for SEO

Domination Google Maps Marketing SEO Package (10 keywords)

Hosting & Security

Domain Management

Web Maintenance

Live Dashboard Reporting

Email Support

Phone Support

Review Software

Call Tracking

**ADA Compliance Website Package Feature (Included)

Social Media Dashboard

Senior Account Manager

Local Services Management
**ADA Compliance Website Package Feature - This package feature is only available as an add on feature for Packages #2 & #3. Included in package #4. The addition of this feature shall incur a flat cost of $99 / month in addition to the package cost displayed above.**
Google Maps Marketing & SEO For Contractors
Ehlen Analytics Offers map pack rankings in your local service area
Imagine ranking for every keyword over your competitors throughout your entire service area. People will be able to find you whether they are on the north side of your territory or the south side of your territory.
Hundreds of phone calls are going directly to your competitors the longer wait to action. There is only one way to change this and that is with our proven process that works and simply makes your phone ring.
Having a Google Business Profile is the first step to being visible in the Map Pack. It allows potential customers to find and access your business's phone number, website, information, and more – all in one place.
Optimizing your google business profile is the best investment you will ever make
Ehlen Analytics Is Here For You
Google Maps Marketing
That Evolves
Ehlen Analytics changes their process every 3 months to constantly stay ahead of all Google core updates and any competitor trying to outrank you. Our process has been evolving since 2017 and is more dynamic than any other marketing agency out there.
This is why we are transparent in the process we utilize and the prices we charge because we know it works and our competition is constantly behind. There is no secret to what we do and we are happy to share our exact process with any client. There is no magic to this process, just hard work and knowing the right steps with doing it the right way.
Get to the top page of Google and stay there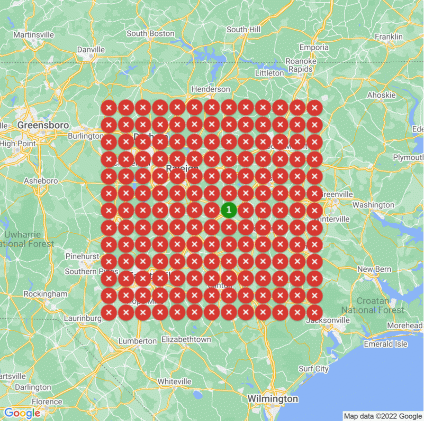 Go from invisible to #1 in your local market
Guaranteed Increase in your Google Business Profile Rankings
Visibility = Traffic = Phone Calls = Revenue
The
Americans with Disabilities Act (ADA)

is the United States' most important law regarding accessibility and civil rights for people with disabilities.
ADA Highlight #1
Employers have to make accommodations for employees with disabilities to be able to do their jobs, including disability-friendly entrances, disability-friendly bathrooms, and the right kind of chairs, desks, and office equipment.
ADA Highlight #2
Businesses of all types have to make it possible for customers with disabilities to access their services, requiring them to make modifications to their premises like wheelchair ramps, accessible bathrooms, American Sign Language (ASL) interpretations, and accommodation for service animals.
Approximately 85% of ADA lawsuits in federal and state courts during 2018 were filed against small and medium retail businesses.
The average ADA website lawsuit settlement still comes to $35,000.
1 in 4 adults have a disability that may prevent them from using your website properly. That is about 25% of online users!