Starting as low as
Website Optimized for SEO

Basic Google Maps Marketing SEO Package (3 keywords)

Hosting & Security

Domain Management

Web Maintenance

Live Dashboard Reporting

Email Support
Starting as low as
Website Optimized for SEO

Standard Google Maps Marketing SEO Package (5 keywords)

Hosting & Security

Domain Management

Web Maintenance

Live Dashboard Reporting

Email Support

Phone Support

Review Software

Call Tracking
Starting as low as
Website Optimized for SEO

Elite Google Maps Marketing SEO Package (7 keywords)

Hosting & Security

Domain Management

Web Maintenance

Live Dashboard Reporting

Email Support

Phone Support

Review Software

Call Tracking

ADA Compliance Website Package Feature

Dedicated Account Manager
Starting as low as
Advanced Website Optimized for SEO

Domination Google Maps Marketing SEO Package (10 keywords)

Hosting & Security

Domain Management

Web Maintenance

Live Dashboard Reporting

Email Support

Phone Support

Review Software

Call Tracking

ADA Compliance Website Package Feature

Senior Account Manager

Local Services Management
** Ask how you can get your free website when you sign up with one of our packages! **
Domain Management Made Easy
MAINTAIN FULL OWNERSHIP WITH EASY ACCESS TO YOUR DOMAIN
Looking to add a new domain or have it managed by us? No problem! We can take care of your domain and make it hands off for you while maintaining full control. All of our domain services are simple and straight to the point.
We can also help you choose a domain that is optimal for SEO purposes. Just give us a call and we will be happy to get you taken care of! 
Domain management made easy!
Ehlen Analytics Is Here For You
Domain Services
Made Simple
Domain management, or domain name management, refers to the ongoing tasks of keeping a personal or business domain (or domains) stable, secure, and able to support related websites. The domain name not only establishes its owner's presence online, it also serves as a portal to a business or personal website designed to serve that owner's unique needs. Site owners may be tempted to focus all their attention on setting up and maintaining the website itself, but managing the domain is a key factor in keeping the website live and accessible.
Take your residential or commercial services to the next level with digital marketing from Ehlen Analytics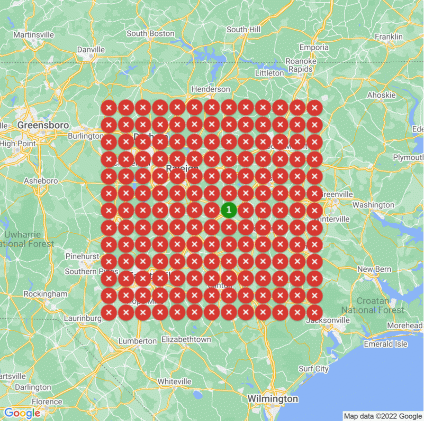 Go from invisible to #1 in your local market
Guaranteed Increase in your Google Business Profile Rankings
Visibility = Traffic = Phone Calls = Revenue
The
Americans with Disabilities Act (ADA)

is the United States' most important law regarding accessibility and civil rights for people with disabilities.
ADA Highlight #1
Employers have to make accommodations for employees with disabilities to be able to do their jobs, including disability-friendly entrances, disability-friendly bathrooms, and the right kind of chairs, desks, and office equipment.
ADA Highlight #2
Businesses of all types have to make it possible for customers with disabilities to access their services, requiring them to make modifications to their premises like wheelchair ramps, accessible bathrooms, American Sign Language (ASL) interpretations, and accommodation for service animals.
Approximately 85% of ADA lawsuits in federal and state courts during 2018 were filed against small and medium retail businesses.
The average ADA website lawsuit settlement still comes to $35,000.
1 in 4 adults have a disability that may prevent them from using your website properly. That is about 25% of online users!