Starting as low as
Website Optimized for SEO

Basic Google Maps Marketing SEO Package (3 keywords)

Hosting & Security

Domain Management

Web Maintenance

Live Dashboard Reporting

Email Support
Starting as low as
Website Optimized for SEO

Standard Google Maps Marketing SEO Package (5 keywords)

Hosting & Security

Domain Management

Web Maintenance

Live Dashboard Reporting

Email Support

Phone Support

Review Software

Call Tracking
Starting as low as
Website Optimized for SEO

Elite Google Maps Marketing SEO Package (7 keywords)

Hosting & Security

Domain Management

Web Maintenance

Live Dashboard Reporting

Email Support

Phone Support

Review Software

Call Tracking

ADA Compliance Website Package Feature

Dedicated Account Manager
Starting as low as
Advanced Website Optimized for SEO

Domination Google Maps Marketing SEO Package (10 keywords)

Hosting & Security

Domain Management

Web Maintenance

Live Dashboard Reporting

Email Support

Phone Support

Review Software

Call Tracking

ADA Compliance Website Package Feature

Senior Account Manager

Local Services Management
** Ask how you can get your free website when you sign up with one of our packages! **
Digital Marketing and SEO for Electricians
Keep Track Of Where Your Marketing Is Working
EHLEN ANALYTICS IS ALWAYS TRACKING HOW AND WHERE YOU MEET YOUR NEW CUSTOMERS
Call Tracking Marketing
In the past, finding out how your new customers found you, was a question you had to ask them… If you remembered to do so in the moment. Now it's as simple as one-click to your dashboard! We will keep a live-time record of your inbound phone calls. We date and time stamp them, gather the caller's name, call duration and even record the entire conversation for you to listen to later if needed. 
Imagine having a tracking number with local area code on your website, and one on your Google listing/GMB/GBP, and one on your ads, etc. This gives you the ability to see what phone number people are calling and how many are calling within a month's time. This is just another way to know where your marketing dollars are working the most and how people are finding you, without having to remember to ask and write down notes when you're busy running your business.
Track every phone call your business gets!
Ehlen Analytics Is Here For You
Call Tracking Solutions
Ehlen Analytics Takes Care Of The Details
Call tracking services are included in some of our packages or as an added feature that you can pair with any other service you're using with our agency. Call tracking features are listed below.
All calls are recorded

First name, last name and phone number of inbound calls collected

We can use your local area code

Run reports of your monthly call volume for certain locations and certain time periods

Differentiate calls based on their location or source
Take control of your marketing and you inbound phone calls with call tracking from Ehlen Analytics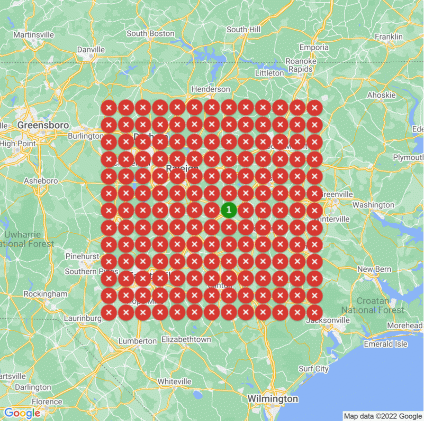 Get Rankings Over Your Competitors Today
Guaranteed Increase In Your Google Business Profile Rankings
Visibility = Traffic = Phone Calls = Revenue
The
Americans with Disabilities Act (ADA)

is the United States' most important law regarding accessibility and civil rights for people with disabilities.
ADA Highlight #1
Employers have to make accommodations for employees with disabilities to be able to do their jobs, including disability-friendly entrances, disability-friendly bathrooms, and the right kind of chairs, desks, and office equipment.
ADA Highlight #2
Businesses of all types have to make it possible for customers with disabilities to access their services, requiring them to make modifications to their premises like wheelchair ramps, accessible bathrooms, American Sign Language (ASL) interpretations, and accommodation for service animals.
Approximately 85% of ADA lawsuits in federal and state courts during 2018 were filed against small and medium retail businesses.
The average ADA website lawsuit settlement still comes to $35,000.
1 in 4 adults have a disability that may prevent them from using your website properly. That is about 25% of online users!